Class Information
Yoga Classes and Private Lessons Offered
Beginning to Intermediate Yoga (Level I-II)

Gentle and Restorative Yoga

Private Yoga Lessons for individuals and groups
available any day of the week when regular classes are not offered at your convenience

gentle, restorative, beginning and intermediate level classes
Home Studio Fees
$10.00 for drop-ins

$64.00 for 8 classes OR $80.00 for 10 classes

$25.00 for private one and a half hour (1½ hr.) lesson
Curious About Yoga?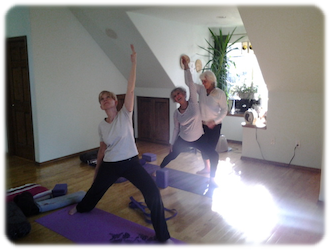 You are cordially invited to attend a Free Class for observation or to try out some Yoga poses to help inform yourself of persuing Yoga for your health wellness. Please contact Judith for available day and times that may be suitable for your attendance.
See below for monthly Class Schedule. All classes and lessons are offered at the Home Studio located at 7894 East Forest View Rd. in Athol, Idaho. Please view Location Map for directions.
Class Schedule & Events
Contact Judith for new student information, to sign up for a class or to get detailed directions to the Home Studio at 208-755-0931 or Email.

Please be sure to check monthly calendar for any seasonal cancellations. In the event that you can not attend a scheduled class date, please call Judith for a courtesy notice cancellation.
Click on Date to learn more.